My girl's picture got sent to the contest fashionably at the last minutes.
Name: Luna Helene (She doesn't use her surname)
Nationality: Is a citizen of both the UK and Finland, but has Greek blood from her mother's side of the family
Age: 26
Occupation: Actress and model
Interested in: Men
Also likes: Literature, poems, pretty clothes and jewelry, birds, paintings, theatre
Dating situation: It's very complicated, but she has been seeing the Norwegian actor Axl Strand for over a year
Her aunt Thalia Paleiotheodoros sent her to this contest, because she wants Luna to become a proper diva and meet a lot of 'eligible suitors'.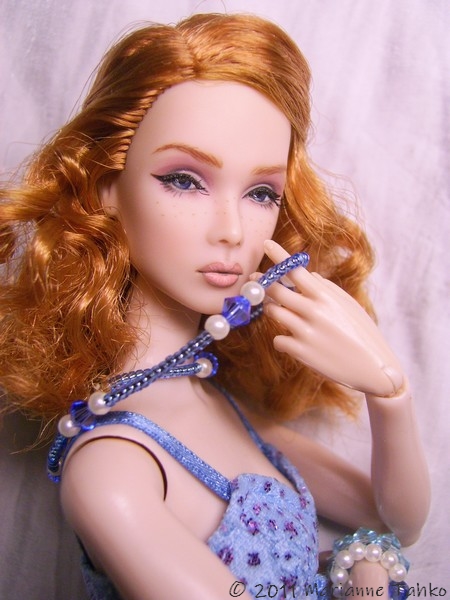 Luna got a kind invitation from a fellow contestant called Tanya to join her in Tanya's private jet to head off to Riviéra. Or actually I think Tanya borrowed it from some rich gentleman… Anyway, the girls had wine and champagne on the plane, and soon after they arrived at their posh hotel. They just can't wait to see the first challenge they have ahead of them.
CHALLENGE 1: Luna Helene
The first week of the International Fashion Royalty Jet Set Diva contest. The invitation reads:
"You are cordially invited to: Le Meet & Greet at the Casino de Monte Carlo
Arrive at : 5 'o' clock
Dress code: Bedazzled Cocktails"
Having lived most of her life in the UK among famous people, Luna was quite comfortable at Casino de Monte Carlo with the Princes. At least at first she was. She had chosen to wear a draped little black dress from one of Rolando DeMarco's recent collections by the Trolliwoodian fashion house Eden's Creations. She took the advice and kept her jewelry to minimum, so she wouldn't take the risk of losing anything too expensive, and she even tied a Jason Wu tulle scarf around her cleavage to keep the Gothic inspired pearl necklace safe. She left her hair loose so she wouldn't need to wear earrings, and as she didn't want to look like a funeral attendee, she chose a blue Mattel purse to highlight her eye colour.
Luna has never been drunk, and she wasn't this time either. Which is why she was surprised to be so upset about how much Prince Andrea Casiraghi looked like her boyfriend Axl! That was a sore subject for her, because she wasn't even sure if they dated anymore. Luna felt as if there had been something inappropriate in her drink. And she had only had one… Luna needed to leave pretty early, because she just felt too upset to put up with all the flirty games that were going on at the casino. Luna is too sensitive to play games.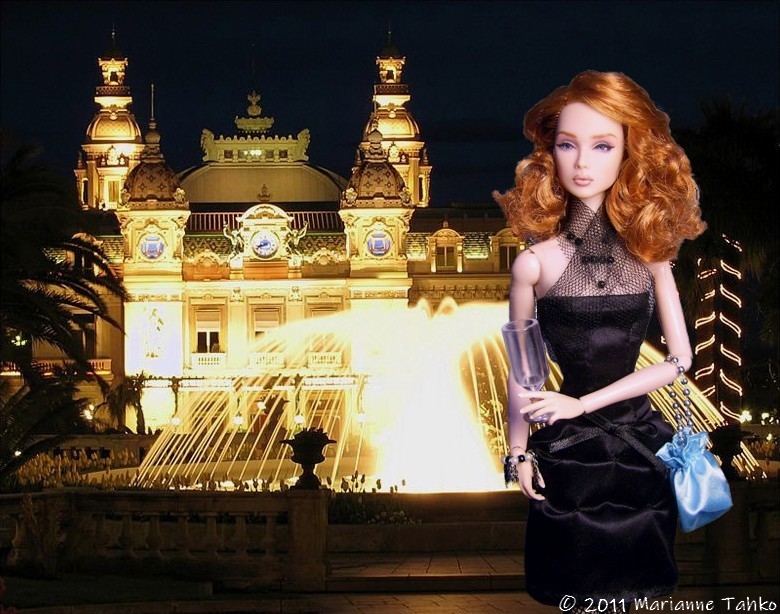 CHALLENGE 2: Luna Helene at Breakfast in Paris
The second week of the International Fashion Royalty Jet Set Diva contest. The invitation reads:
"You're cordially invited to Breakfast at Tiffany's with at twist!
Dress code: Le black evening gown & le twist accessory…"
Luna had just been to Tiffany's to buy some new diamond bling. Once again she didn't want to lose her necklace, but she still wanted to show it around during her shopping trip, so she had it sewn on her dress! Her asymmetrical black lace gown was another Rolando DeMarco design, and it was partly very revealing. The last time Luna had been in Paris a few weeks before, she had had a terrible row with her boyfriend Axl Strand, and they haven't spoken since then. But Luna is done waiting to hear from him and done being the 'good girl' she has always been…
So Luna took Mr. Jared Brazendale, her model friend and bodyguard, with her when she went jewelry shopping in the morning. They drove around the city on his motorcycle and stopped for a little breakfast moment in front of a Parisian street café. Luna posed dramatically for the paparazzi as she stepped off the motorcycle to accept her purchases… Of course she bought a coffee and a sandwich also for her special accessory, Mr. Brazendale, who matched perfectly with Luna's other accessories. The paparazzi were thrilled to get this picture, but Axl might think something else if he gets to read any French papers.
Luna told the papers: "No, I am not going to wear sunglasses, because they would cover my beautiful eyes, do you not think? And tiaras are for real princesses or little girls. So childish!" Luna's statement made a very proud woman of her aunt, Thalia Paleiotheodoros. Looks like Luna is a real diva in the making.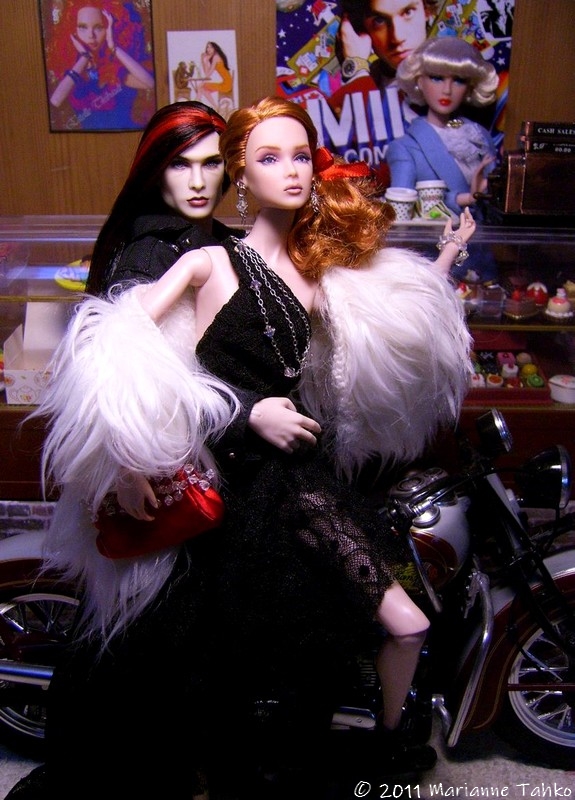 CHALLENGE 3: Luna Helene Shopping in St. Tropez
The third week of the International Fashion Royalty Jet Set Diva contest. The invitation reads:
"You're cordialy invited to: St. Tropez's shopping triangle.. Place de Licas-Rue Gambetta-Rue Allard
Dress code: Le Blanc Canvas"
Luna was extremely happy about the chance to shop and find something new for the next challenges, because she had left for Riviéra in such a hurry that she hadn't got to pack much. Luna didn't care much for the clothing suggestions for this week's challenge. She still doesn't care for sunglasses, and a scarf would have blocked the view to her lace top that has been made by her favourite designer Rolando DeMarco. It's from the Sheep in Wolf's Clothing collection, and as Rolando's favourite model Luna gets those clothes super cheap.
Luna wanted to be a "romantic rock star goddess" for this challenge, so she borrowed her cousin Epona's HJ Couture pants and clutch that are made of plum coloured fake leather. She liked the bright red jacket her friend Tanya wore to the first challenge so much, that she got a similar jacket to pair it with matching red pumps. The jacket and pumps were both Jason Wu designs or by someone as fabulous. Luna had tied her hair into a rock star bump and spiced the ensemble with a load of jewelry.
Oh, her friend? Well, that was Oskar Lumi, an old family friend from Trolliwood, who Aunty Thalia had made to be Luna's shopping companion in St. Tropez. They visited this glamorous hat and bag shop when the lurking paparazzi jumped from behind the racks and started photographing! As a model and actress Luna is so used to them, that she immediately took a graceful pose as she went through the assortment. They got so many good poses by Luna, that they found it extremely difficult to choose the best photo! She's a natural born poser. Oskar is just a friend to Luna, but of course the journalists were going to write their own story about this event, too.
It made Luna wonder though: maybe she really should finish it with her viking of a boyfriend and take along someone who would be ready to carry her purse during her shopping trips? That is certainly what Aunty Thalia wanted.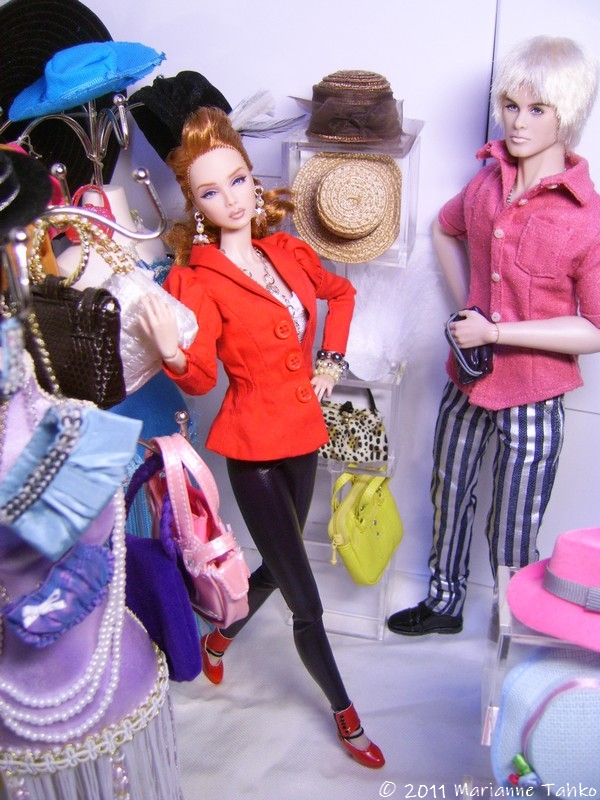 CHALLENGE 4: Luna Helene in the Botanical Garden
The fourth week of the International Fashion Royalty Jet Set Diva contest. The invitation reads:
"You're cordially invited to: The Annual Tea Party at Giardini Botanici Hanbury (Villa Hanbury)




Address: Corso Montecarlo 43, Mortola Inferiore (near Ventimiglia)




Dress code: Out of Africa-Animal Prints-Tea wear"
Luna knows all about tea parties and how to dress up to those. After all, her farther is the Trolliwood famous hat maker and cake baker, Mads Edenane. Luna was thrilled to get invited to a tea party. She chose to wear Mattel fashions, Integrity leather boots and the leopard (or jaguar?) spotted purse she bought in St. Tropez. Her hat was also from the same boutique, and as a skillful girl she had customized it with a tea cup and a plate she could use later on. Luna's farther wasn't much around when she grew up, but he did teach Luna a thing or two about perfect tea wear.
Luna took her personal bodyguard, Jared Brazendale, with her when she went to the garden and started looking for the place where the tea party would be held. Nobody else probably noticed this, but there was a right jungle nearby that place! In addition, it was on a hill about 15 dolly meters higher than the actual garden, so the bodyguard came in handy when Luna fearlessly looked all the way down, and there wasn't even a barrier anywhere! She could easily have fallen down like Alice in Wonderland. (Even her agent was in trouble getting and staying up there.)
Mr. Brazendale was a bit overdressed for the tea party since the weather was so hot in the garden. Luna pointed that out to him, and then she obviously received a lot of dirty jokes from Mr. Brazendale. But he soon got silent at the sight ahead of them. Nobody has ever seen Mr. Brazendale look quite as stunned yet – maybe a little scared even. Luna pulled a cake spade out of the holster on her hip and pointed at the tea party: "We are here! Bring my gift cakes for me, will you?" The long table was full of guests in the most imaginative tea party outfits you have ever laid your eyes on.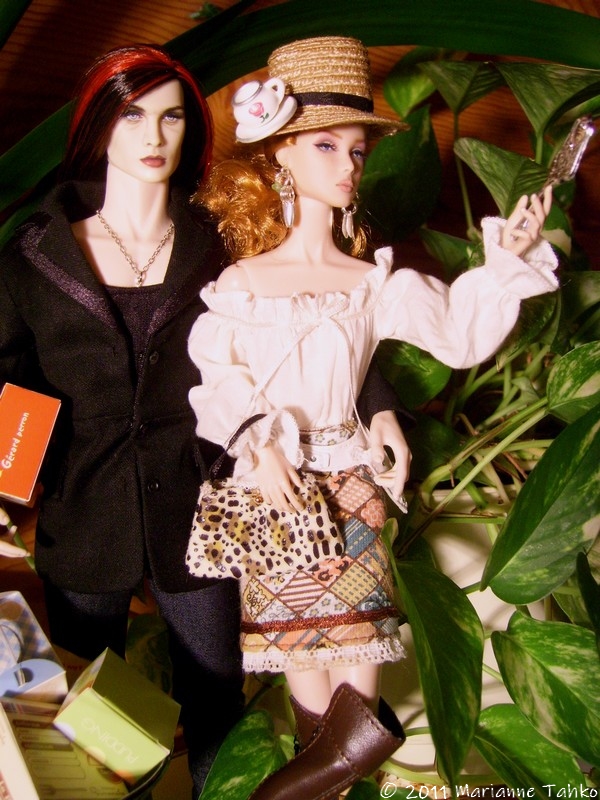 CHALLENGE 5: Luna Helene at the Opera
The fifth week of the International Fashion Royalty Jet Set Diva contest. The invitation reads:
"You're cordially invited to: Le Il Divo dans le Jardin concert




Address: 1 avenue Villa Ephrussi de Rothshild 06230 Saint- Jean- Cap-Ferrat




Dress code: Black Tie"
Luna was excited about this formal do. She just loves formal. Evening dresses, ball gowns, even well tailored suits. She has been accused by her boyfriend Axl Strand of dressing too formally, and afterwards Luna just asked her family: "Am I really that formal? Really?" Quite frankly, Luna can't understand how anyone could be too formal.
Luna wanted to dress up as a goddess of the ancient Greece, since half of the blood in her veins is Greek from her mother's side. She wants to remain loyal to her roots despite the crisis that is going on in Greece right now. Luna pointed out that it's not the ordinary people's fault, the workers. "Nobody will dare confess being Greek soon. I find it very sad. I am still proud of my roots."
Luna's green mermaid dress was made by Mattel some years ago, so was her sheer white embroidered scarf, which has been in the family for a long time. She was wearing Greek style Integrity sandals. Luna's golden evening gloves and jewelry were made specially for this event. They were only finished today, so Luna was a bit worried that she might arrive late for the Il Divo concert. Her hairdo took hours to do as well, but Luna didn't want to go wearing anything half finished. She insisted on wearing a laurel wreath to decorate her hairdo.
Luckily Luna ended up arriving just on time with her date, Oskar Lumi from the third challenge. Luna was wondering where everybody else's dates were. "So many girls seem to have arrived alone. Why? Are you waiting for a Casiraghi to ask you for a date? I am not that sort of a person. I am asked to attend an event beforehand by a gentleman, or I will not come at all."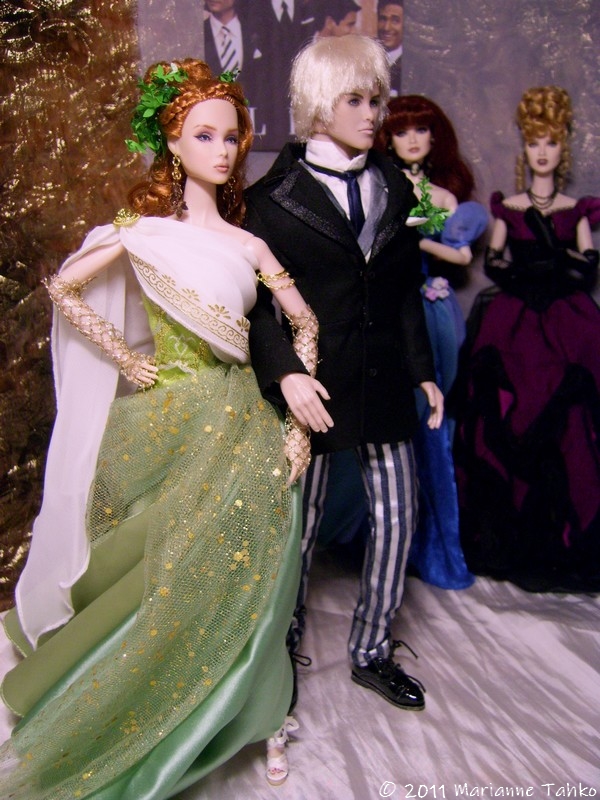 High-class Guests
I had to take extra pictures this time…. Luna, Oskar and some wallflower vamps posed for the paparazzi.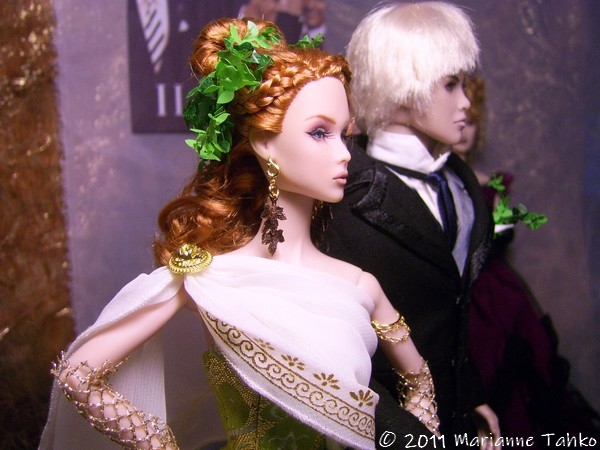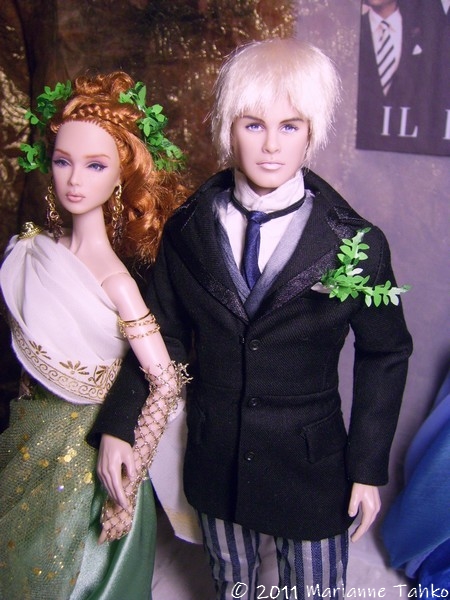 CHALLENGE 6: Luna Helene at le MAMAC
The sixth week of the International Fashion Royalty Jet Set Diva contest. The invitation reads:
"You're cordially invited to: Le Musée d'Art Moderne et d'Art Contemporain




Address: Promenade des arts 406364 Nice cedex 4




Dress code: Avant Garde"
"You want a fashion forward pose, Wilhelmina? Fine, just do not forget to watch when I arrive on the hands of my two stu… I mean: my two gentleman companions!" Luna arrived at le MAMAC looking completely unrecognizable. Luna was so dedicated to this challenge, that she let her agent sew parts of her outfit on her! She just looooves art, and she usually spends hours in museums and galleries.
Luna didn't want to go Gaga or Madonna, but she rather wanted to try something of her own. She dressed up as this swan that is not black and not white either… but a love child of the Black Swan and the White Swan! Luna loves the movie Black Swan, so this was the first and best of her ideas for this challenge. "You just have to stand out in the crowd. If you manage to do that, you are experimental and therefore interesting. That is what makes you avant-garde", Luna said at the museum. Luna's skirts, tights and shoes were by Jason Wu, and the top was by Mattel. Everything else on Luna was made by her agent.
Luna loves the art of Andy Warhol and also John Lennon's music, so she specifically wanted to pose in front of this huge photo of John, Yoko Ono and Andy. It would have been Mr. Brazendale's turn to accompany Luna in this challenge, but Mr. Lumi is soon going to spend some time in his hometown Trolliwood, so Luna wanted to include him as well. Of course she couldn't leave him out: Mr. Lumi kind of looks like Andy Warhol, doesn't he? As the threesome were posing in front of that rather unconventional picture, the passers-by as well as journalists couldn't help but wonder if they were going to try some more poses together later… Just saying. If you look where the guys' hands are already… "Will I take the white or the black? Neither – I will take both!" That quote will most certainly be in headlines tomorrow.
All hands were on Luna just the same as all eyes.
CHALLENGE 7: Luna Helene at the Golf Club
The seventh week of the International Fashion Royalty Jet Set Diva contest. The invitation reads:
"You're cordially invited to: Mini golf exotique au Lavandou
Address: Avenue du Grand Jardin 83980 – Le Lavandou
Dress code: Casual golfing chique"
"I grew up in the Midlands of England, in the countryside. This is how we used to dress when we went to hunt foxes or played the polo or golf or whatever sports. We were always casually chic", Luna said about her outfit that consisted of Jason Wu and Mattel fashions. Her lacy gloves and golden earrings were provided by her agent. "These four-leaf clover earrings are my cousin Epona's. She loaned them to me because she tought that I might need luck in this game. Luck? Can you believe it? I do not need luck. All I need is talent, and that I am not short of."
Mr. Lumi is in Trolliwood, so Mr. Brazendale was the only companion Luna could have for this challenge. That didn't exactly make Mr. Brazendale amused: "Why do I always get the worst challenges?! Honestly, when my contract has been fulfilled, I'll never apply for a job like this again!" Luna kindly asked him to wear a red rosette, because also her companion always has to look chic. Then she asked again, more emphatically. Mr. Brazendale refused again, because his vision of chic didn't quite match with Luna's. He thought that he already looked ridiculous enough.
Luna doesn't need dogs to attract the rich single men of the golf club, because she is already charming enough herself. But Luna didn't want the judges to think that she doesn't obey the rules (entirely) so she had borrowed a collie from her cousin Amalia. By the tone of Luna's voice, the dog figured that she needed protection from the strange man, so the dog suddenly attacked Mr. Brazendale! Luna just said: "See? Even the dog has more sense of fashion than you have! Now would you please wear this? And do not drop the clubs while you are at it! And button your shirt for Chanel's sake!"
Note from the agent: I apologize for the bad quality of this picture, but the natural light of the day only lasts for a couple of hours in Finland at this time of year, and I only had a few seconds to take this picture because of the wind that kept falling the dolls over.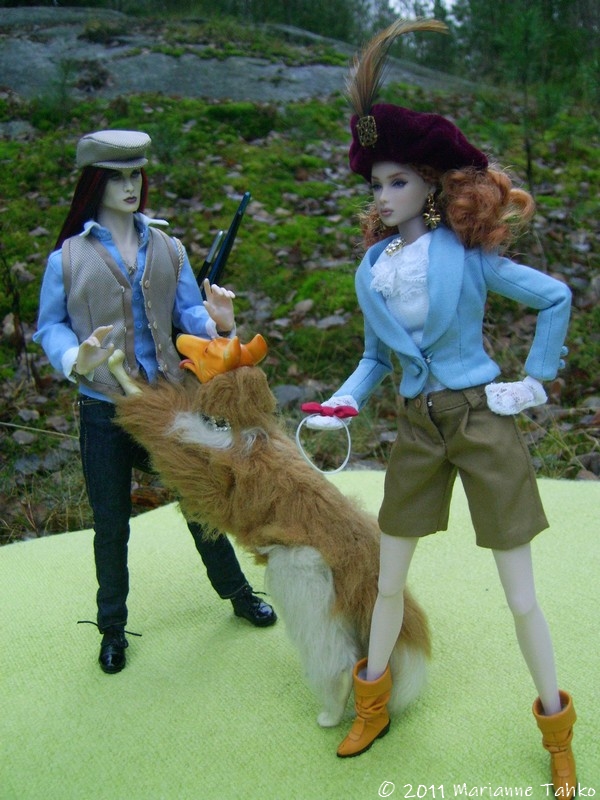 CHALLENGE 8: Luna Helene at La Plage
The eigth week of the International Fashion Royalty Jet Set Diva contest. The invitation reads:
"You're cordially invited to: San Remo Riviéra del Ponente (Citta dei Fiori)
Address: La Plage (the beach)
Dress code: Fifties Hollywood Glamourous Beachwear"
Luna is not afraid to get herself wet (haa haa, minds out of the gutter now) during this contest, if it means that she gets the perfect background to highlight what she's wearing. For this challenge she wore a Rolando DeMarco dress that she had herself turned into a 50's style bathing suit with a few minor changes! Grace Kelly would approve of this, and that is what Luna kind of was after. Grace Kelly is a major influence to her. "Will you tell the Casiraghi boys I said hello?" she shyly requested.
Yes, Luna was posing in front of a small waterfall she found at the beach! Water was dripping from Luna's hair to her toes as she posed in her bright yellow shiffon outfit and jewelry that was made of gold chain, rhinestones, pearls and Swarovski chrystals just for this challenge (by her agent). Her head piece was the only piece of jewelry that wasn't custom made. It's made by Mattel. Luna kept her yellow, matching Jason Wu shoes in her see-through Jason Wu bag, because you just can't walk in a fountain wearing high-heels! Luna also had a new, Grace Kelly inspired hairdo, as she likes to have a different hairdo for every challenge. She will be running out of options soon…
This time Mr. Brazendale was not reluctant at all to accompany Luna at a challenge… I suppose you can guess why? As Luna was standing in the fountain she put her right hand dramatically on her forehead and asked: "To be or not to be with him? That is the question!" Then Mr. Brazendale said to Luna: "I like this challenge so much more than the previous ones… We're all wet and hot… Want to pay me a visit in my hotel room after this?" To which Luna answered: "What? I was talking about Axl! Touch me inappropriately, and I shall have Aunt Thalia on you!" Mr. Brazendale looked too scared to say anything more on the matter that day.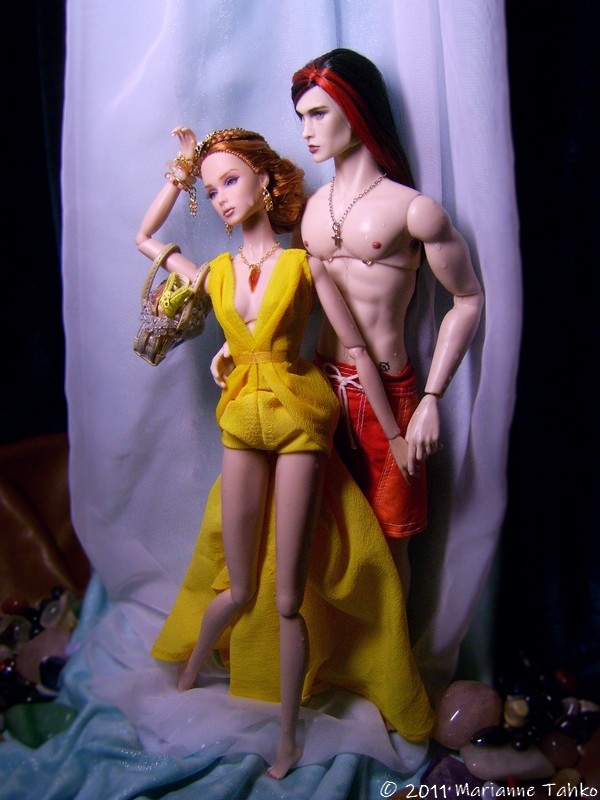 CHALLENGE 9: Luna Helene at the Perfume Museum
The ninth week of the International Fashion Royalty Jet Set Diva contest. The invitation reads:
"You're cordially invited to: Le Musée International de la Parfumerie
Address: 2 boulevard du Jeu de Ballon 06130 Grasse
Dress code: Romantico"
Luna was thrilled to get an invitation to a perfume museum, and she was especially excited about the dress code being romantic. That would mean that she could dress in a very feminine way… and yet she could bring her own twist to it. You see, Luna's father Mads Edenane is a hat maker and cake baker, so he is always ready to help Luna out when she needs a new, delicious piece of headwear. Luna didn't have to disappoint this time either. She got a quirky hat that was made of lace, a feather, a cameo, a cake with a top and… a real skull! "Skulls are so romantic," Luna said. "So romantic indeed, that I'm bringing a basketful of them to share them with my contender sisters."
As her jewelry Luna had chosen to wear Knife's Edge Desings from the Ooh La La and Spring '10 collections. Her shoes were also handmade pieces, from Ellasdolls. Luna's dress was from Integrity, and her lacy petticoat and stockings were made by Rolando DeMarco. A lot of people at the museum probably noticed that Luna's petticoat was longer than her dress. And there is a reason for that; Luna fully believes in trendsetting. She wants to be a new fashion icon and make this a new style! Only time will tell if it works or not, but Luna is persistent to walk in her own shoes in the fashion world.
Mr. Lumi came back from Trolliwood just in time for this challenge, and Luna was very happy about it, because she didn't want to do another challenge in a row with Mr. Brazendale. Mr. Lumi played some grand piano for the people at the museum and even sang a little:
"I travelled East by a long road
And found no love, no love for me
North by a short road
And found no love, no love for me
And South by the narrow road
Still no love, no love for me
West by a narrow road
No love, no love for me
So back to source I went
Where you came to me
I found love, I now see
Oh, how I love thee"
When they thought nobody was hearing them, Luna and Mr. Lumi had this conversation:
Luna: "I am so glad that you are here! Mr. Brazendale is so vulgar… He always flirts with me! You are so much sweeter, Mr. Lumi."
Mr. Lumi: "Could you just call me Oskar, alright? We have known each other long enough… And I agree about Jared. In fact, his whole family is so weird… I just broke up with his sister, Elena."
Luna: "You did? But I thought you were so in love with her…"
Mr. Lumi: "I was… But it's not worth it. I'm more in love with somebody else. Somebody whom I've known for years, but whom I've only recently got to know well. She's my darling, my conqueror."
Luna: "Oh…"
Suddenly the air was full of fog from all the scents that soared from thousands of perfume bottles, and you couldn't see Luna and Mr. Lu… Oskar for a minute. You could only hear a soft kiss if you listened very carefully. When the fog finally cleared, Oskar was playing the grand piano again with an awry bowtie on his neck, and Luna was sitting on the piano with a poison green perfume bottle in her hand. With a mysterious smile on her face, she said: "Would you like to try some of this? The scent is just divine! It drives men crazy. Hi-hi-hi!"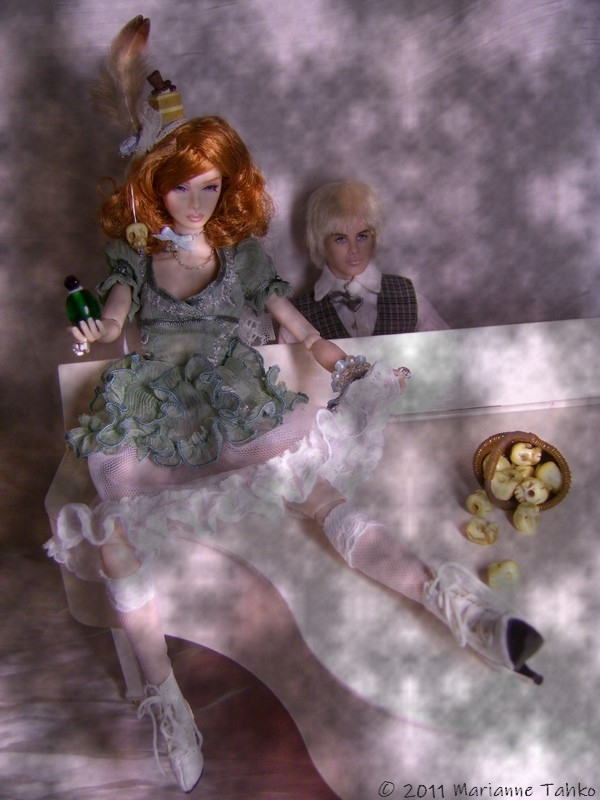 Luna got to model for a painter at the perfume museum. The painting was named as "Girl With a Skull Hat".
This is what you couldn't see because of the perfume fog. Only the mysterious painter saw what happened.
CHALLENGE 10: Luna Helene at Harrods
The tenth week of the International Fashion Royalty Jet Set Diva contest. The invitation reads:
"You're cordially invited to: Harrods
Address: 87-135 Brompton Road Knightsbridge London, SW1X 7XL United Kingdom
Dress code: Furrastique"
Luna was excited to get a chance to go to her former home country and shop at Harrods, where she in the past has spent so much time… and money. She didn't see Mr. Brazendale fit for this challenge, so she gave his place to the Trolliwoodian music manager, Mr. Oskar Lumi, who happens to be a friend to Luna's family… and maybe something more to Luna. The magazines would just love to dig some dirt out on Luna and Oskar and plaster all streets of Trolliwood with gossip to see how Luna's so-called boyfriend, Mr. Axl Strand, would react.
Thus, the paparazzi followed the couple when they went shopping at Harrods. Luna noticed them at the minute she had arrived and bought the first thing of many: a whirly pop, which she was swinging in her hand as she posed in a model-esque way and spouted out fashion tips: "This leopard spotted jacket with a fake fur collar is my favourite. It is made by Integrity – so are this soft blouse and the electric blue pants and my black boots and hat. Some of this is Mattel. I do love to mix and match clothes and accessories. That is what supermodels do, and… If you also happen to be a world-class actress like moi, you know how to dress and behave in the most memorable way. That is what makes people remember you and want to learn more about you. I may not win this contest, but I will most certainly remain in people's minds for years to come." Luna's speech was finished by Oskar mysteriously saying: "Guaranteed." Luna looked like Santa's little helper in her colorful outfit, and Oskar was her soon-to-be bag carrier.
The pair walked away, quite close to each other… But you couldn't make anything out of it, poor paparazzi! However, Luna and Oskar could be heard playfully singing the British pop star Mika's song Lollipop, clearly enjoying each other's company.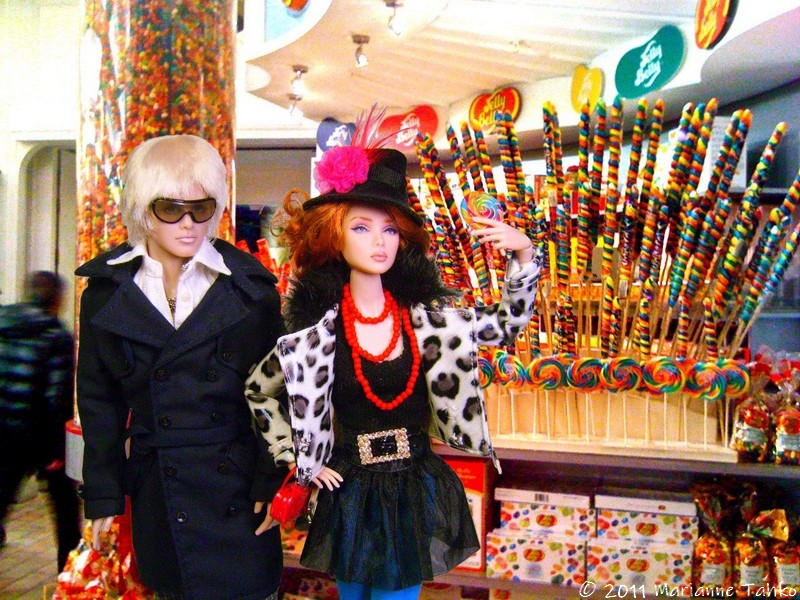 CHALLENGE 11: Luna Helene on the D&G Yacht
The eleventh week of the International Fashion Royalty Jet Set Diva contest. The invitation reads:
"You're cordially invited to: One Night In Heaven! (the official D&G party!)
Address: Domenico Dolce & Stefano Gabbana's yacht on the Mediterranean sea
Dress code: Rainbow White"
"I do like to change things up a bit like I have told you before," said Luna about her peculiar outfit when she was posing with Mr. Brazendale on the deck of the Dolce & Gabbana yacht. It was already early night when Luna arrived. "I simply could not bear the thought of carrying a real lobster on my shoulder all day! I had to come when all the other models and guests where here, so I could make a noticeable entrance and the lobster would still look fresh. Did you know that they boil these poor creatures alive? I became a vegan the moment I heard that. This outfit is a fashion statement. I am speaking for the lobsters here, because nobody else will. I am a true environmentalist."
Luna had only taken Mr. Brazendale aboard, because it was his turn according to the contract. "And Mr. Brazendale does match my outfit for this week better than Mr. Lumi would have – he looks like a real crustacean!", Luna pointed out. "I heard that", said Mr. Brazendale, who had refused to wear anything white for the party. It just wasn't his style. He is a dark person like that.
Luna had to mention: "It was actually Mr. Brandon Flowers who gave me the idea for this outfit. You do know the band The Killers, right? Well, their music video from a few years back… Spaceman. Mr. Flowers looks like a huge lobster in it! He was the first who thought of having feathers on his shoulders… and other things. Check out that video! He is a fashion pioneer. Unlike some." Mr. Brazendale grinned when he heard that, and Luna went to mingle with the other guests on the yacht.
Fashion credits for those who want them (because Luna didn't do much explaining this time):
Luna's outfit:
Dress: ITBE Angel
Clutch: Engaging Elise
Earrings, the ring with the red stone and the thick bracelet: DG, Design a Doll Studio
Other bracelets and rings: me
Lobster: Re-Ment
Feathers: they're from a mask
Jared's outfit:
Shirt: Tango Ken
Top and cross necklace: me
Pants: his own (Acheron doll)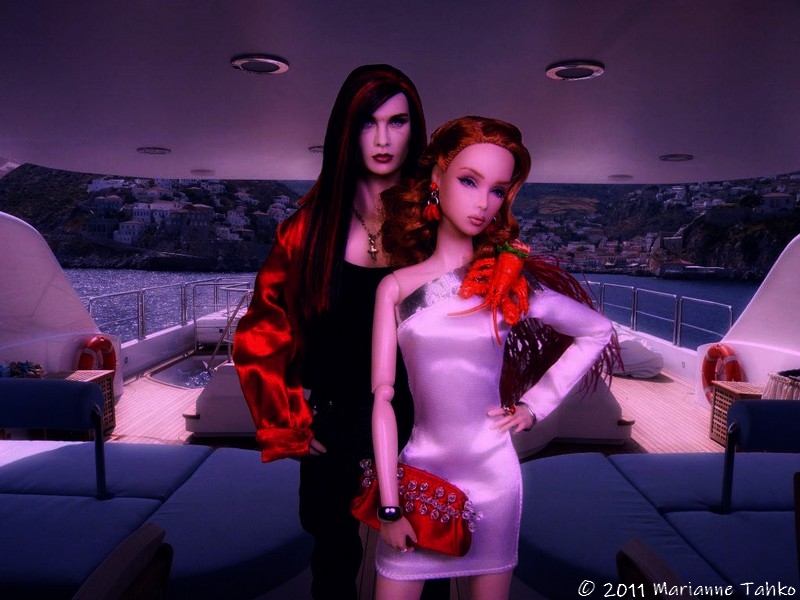 FINAL CHALLENGE: Luna Helene at Prince Albert's Holiday Ball
The twelfth week of the International Fashion Royalty Jet Set Diva contest. The invitation reads:
"You're cordially invited to: Prince Albert de Monaco's FUTURYCON Ball
Address: Le Palais des Princes de Monaco
Dress code: SCI-FI Couture"
Luna appeared at the final event, the Futurycon Ball, in a Rolando DeMarco outfit that could have been ripped from a page of one of those haute couture fashion magazines. Despite having two dates take turns during this contest, Luna decided to go to this event on her own. Here's why:
"I have felt so tied down during the past year and a half. Maybe it was partly my fault, but nevertheless, I do not want to be defined by a man. I am my own woman, and if I am with somebody, that somebody has to let me breath and have things my way sometimes… I did not feel like I had that chance for choices with Axl… Which is why I need to be on my own for a while and decide how to proceed. I expect that he will give me a hard time as soon as I get home from here. This contest has allowed me to have a break from my normal life, and I am grateful for that.
Science fiction is about innovations and alternative worlds and futures. I decided not to go for the same route as everybody else here and dress as a robot or something else from one of those silly flicks… Did I just say 'flick'? I have clearly been spending too much time with a certain not so sophisticated Viking. Anyway, everybody probably knows that birds were developed from dinosaurs. I grew up to be this successful bird, a free spirit, who had used to getting everything she wanted and to being admired. Then I met this man, who at first was lovely and considerate. But he later started controlling everything. He put these chains around my arms and this way stopped me from flying in the graceful way I used to. He diminished me to his level, to this dinosaur level. So here I am, at the science fiction ball representing my own evolution and that of many other women in this world. Women who are ruled by men.
Stop being afraid. Free yourself from the chains and fly high in the sky as the free spirit that you are. Make him see that you cannot and will not be tied, but that you have your own mind. Keep my story in that mind and start your New Year with joy, free from everybody else's rules. Write your own science fiction and make it your real future.
With much love,
Luna and the Agent"
Luna found the last challenge exciting enough to test her wings for a couple of extra shots:
I want to say thank you to everyone on behalf of Luna for letting her be a part of this contest. Luna was never one of the top scorers, but this contest has proven how versatile she can be – despite what her soon-to-be ex-boyfriend Axl Strand thinks. "How can anyone be too classy?", Luna wondered before the contest kicked off. And she still thinks nobody can. So Luna was her classy self through the contest, but she did bring out her quirky side as well. She even changed her hairdo for every challenge. "Classy does not mean boring," Luna says. Luna will add these photos on top of her thick modeling file now that the contest is over and she will shine in new projects.
Luna's aunt Thalia Paleiotheodoros sent her to this contents so that Luna would meet "eligible suitors" and forget about her caveman of a boyfriend… Well, with Luna's newly found friendship with the family friend Oskar Lumi, I guess it's safe to say: congratulations, Mrs. Paleiotheodoros. You won! You managed to break a dolly relationship… One of the longest-lasting ones around here even. And do you realize how hard it is to pair these little, ungrateful bitches up? I constantly buy more male dolls, and yet most of them are single! Axl's up for grabs now. Grrr!